Putting the Pieces Together
The following PowerPoint presentation that Dr Manji delivered at the 2011 9th International Conference on Bipolar Disorder helps guide us through a very confusing thicket. Never mind the complextites. Focus, instead, on the general picture: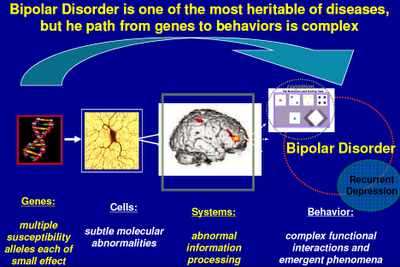 Above: I've seen versions of this slide displayed by other scientists from the NIMH. "Alleles" in the first caption refers to genetic variations. Genes switch on proteins that regulate cellular activity. Cells are organized into systems, which in turn influence behavior. (See also in this section Psychiatry's Big Bang.) 
SIGN UP FOR MY FREE EMAIL NEWSLETTER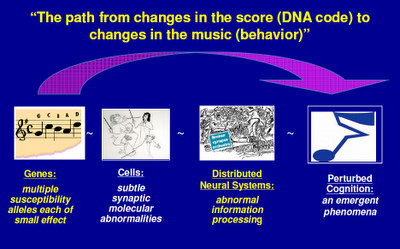 Above: Here's an overview of what happens when things go wrong. (See also Systems in Collapse.)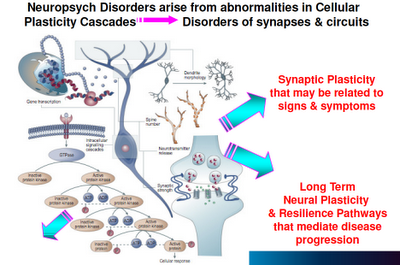 Above: "Plasticity" is the operative word, here. When neurons are compromised in their capacity to maintain cellular function, grow, and connect to new neural networks, bad things happen.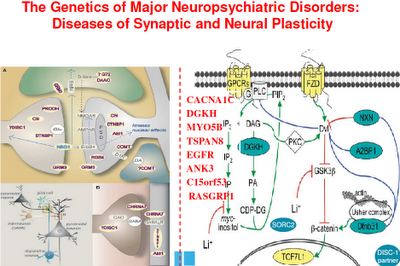 Above: Here are some of the candidate genes that may affect plasticity.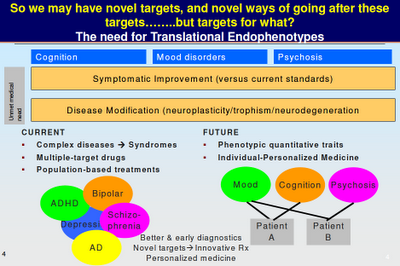 Above: Maybe you can see where Dr Manji is going with this. We are not talking about "bipolar genes" or "schizophrenia genes". We are talking about genes that affect particular brain functions, which in turn influence how we think and behave. Note the overlap between the various mental illnesses. Note how mood and cognition and psychosis are not restricted to any particular diagnosis. "Phenotype" is the traditional way of looking at mental illness, as symptom clusters. "Endophenotype" looks at what else may be going on (such as a breakdown in neural plasticity).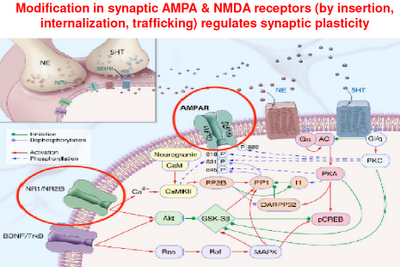 Above: This is a representation of various signaling cascades inside the neuron that regulate neuroplasticity. If the receptors that feed neurotransmission into the cell aren't functioning right, intracellular signaling is compromised. If intracellular signaling is compromised, the neuron atrophies and may die. This in turn compromises the neuron's ability to connect with other neurons (through neurotransmission). Whole neuronal networks (synaptic plasticity) are in turn compromised.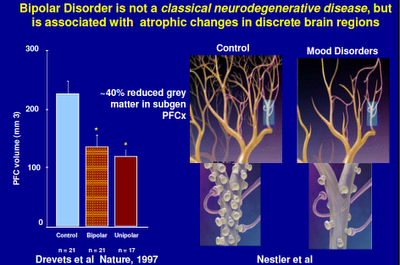 Above: Here we see a representation of a healthy neural network and an unhealthy one. Think of a shriveled tree with few branches.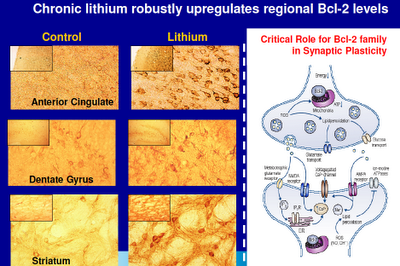 Above: The anterior cingulate, dentate gyrus (part of the hippocampus), and the striatum are all prime suspects when things go wrong with us. The anterior cingulate plays a major role in modulating brain function and in neural connectivity. The hippocampus is where memories are laid down and where new brain cells grow. The striatum is intimately tied to the dopamine system. Note the differences in neural density in these regions with the administration of lithium. Bcl-2 is a protective protein that regulates programmed cell death.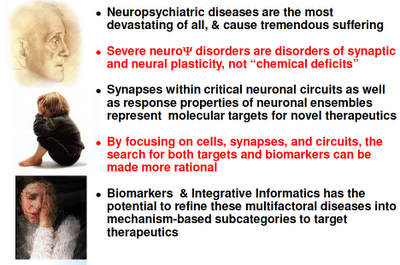 Above: Dr Manji's summary slide. See? Simple, really.
For how the inside-the-neuron "micro" view interacts with a brain systems "macro" view, see Systems in Collapse.
This article has had numerous incarnations since I first published it in 2000. Latest major incarnation 2012, extensively edited Dec 20, 2016.