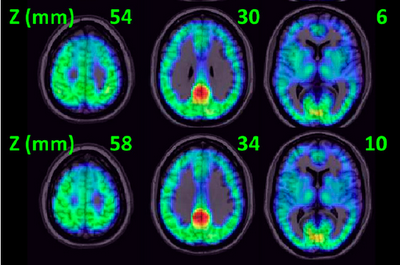 SIGN UP FOR MY FREE EMAIL NEWSLETTER
The very strong implication is that things going smoothly in the cingulate bode well for things going smoothly in the rest of the brain. In her talk, Dr Volkow mentioned deep brain stimulation (DBS) for depression, focusing on Brodman Area 25, in the immediate hub neighborhood. DBS is also being applied to other brain regions that appear linked to BA 25. Food for thought.
From their hub findings, Volkow and Tomasi identified seven overlapping networks covering 80 percent of all the gray matter in the brain. These involved four major cortical networks (default mode, dorsal attention, visual, and somatosensory) linked to four hubs (ventral precuneus/posterior cingulate, inferior parietal cortex, cuneus, and postcentral gyrus), and three subcortical (tied to hubs involving the cerebellum, thalamus, and amygdala).
The authors note that to keep things simple, they kept the hub count low, based on signal strength and volume. I think this means that researchers will be kept busy for a long time mapping out minor hubs. But the low hub count confirms something that experts have known for a long time, namely that all manner of illnesses and conditions share many of the same pathways. Indeed, Dr Volker in her talk pointed out that both drug use and stress increase dopamine activity in the nucleus accumbens.
Below are renderings of the different networks. (Note, postcentral roughly corresponds to the posterior cingulate.)